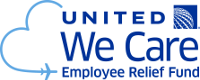 United We Care provides confidential, timely, short term crisis relief to those in the United family needing basic assistance unavailable through other resources. It is an international fund of last resort. Employees and retirees who have no other means of financial assistance may apply in the case of natural disaster, medical illness, fire, theft, accident, domestic violence, or any other crisis beyond the applicant's control that causes them to lose time from work.
United We Care is funded primarily by employee payroll deductions, special fundraising events, and the generous support of United Airlines. In 2015, donations of over $817,000 were received and grants of over $466,000 were awarded to 225 individuals and their families to assist with basic living expenses.
FFG is proud to be partnered with this organization and provide 100% of proceeds raised from our events directly to United We Care (net of any actual costs for hosting these events).
United We Care is a non-profit, tax exempt, 501(c)(3) charitable organization that files Form 990 with the Internal Revenue Service each year to maintain tax-exempt status. To the extent allowed by law, contributions are tax deductible. Specific tax questions should be directed to a tax advisor.
The 2015 United We Care annual report can be found here.